You can use check boxes when you want someone to select more than one option from a list. For example: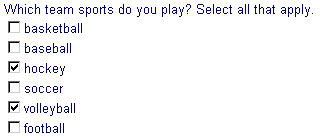 To add a check box:

1) Click Insert on the Menu bar and choose Form, then Check Box. A check box appears on the page.
2) Type your text. For example: basketball.

3) Press the Enter key.



TIP: When you add other form elements - like text boxes and check boxes - make sure the "Submit" and "Reset" buttons are at the end of the form. All other questions and form buttons must go above the "Submit" and "Reset" buttons. Your Web site visitors use these buttons to send their information to you over the Internet.