After your visitors fill out your online form, they send it to you over the Internet. You can choose how to have it delivered. One option is to have it sent to you by e-mail. Every time a visitor completes a form, the information in the form is delivered to you in an e-mail message.

To have visitors' data sent to your e-mail:

1) Right-click over the form in your Web page. A pop-up menu appears.

2) Click Form Properties. The Form Properties dialog box appears.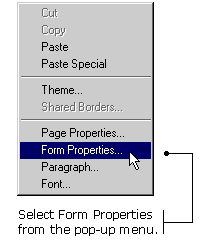 3) Click the Send To radio button.

4) Type your e-mail address into the E-mail address text box.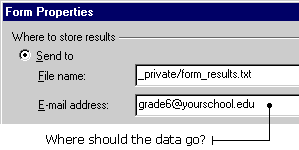 5) Click OK on the Form Properties dialog box.