It's a good idea to make sure your most recently added files are included in your site.

To check for recently added files:

1) Click View on the Menu bar and choose Reports, then Recently Added files. A list of recently added files appears in Reports View.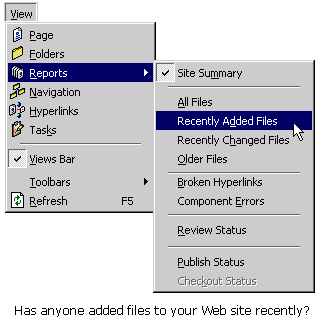 TIP: FrontPage automatically defines "a recently added file" as one that was added to your site within the last 30 days. You can change this number of days. You can also change FrontPage's definition of an older page, a slow page, and the modem connection speed you assume your visitors will have.

To change the definition of Recently Added Files:

1) Click Tools on the Menu bar and choose Options. The Options dialog box appears.

2) Click the Reports View tab.

3) Type a number in the Recent Files Are Less Than box. For example: 10.

4) Click OK on the Options dialog box.