You can "interlace" your GIF images to create a special visual effect. With an interlaced image, your Web site visitors will see pictures fade into view. The image looks blurry at first, and then it comes gradually into focus while the download is completed. Without interlacing, the picture slowly fills in line-by-line from the top to the bottom.

To interlace an image:

1) Place the pointer on the image and right-click your mouse button. A pop-up menu appears.

2) Click on Picture Properties. The Picture Properties dialog box appears.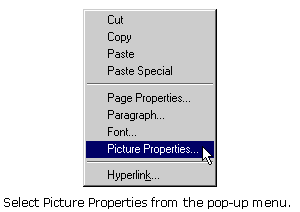 3) Click the General tab.

4) Click the Interlaced check box.

5) Click OK in the Picture Properties dialog box