To adjust the width, color, and alignment of your table's borders:

1) Place the cursor in the table.

2) Click Table on the Menu bar and select Properties, then Table. The Table Properties dialog box appears.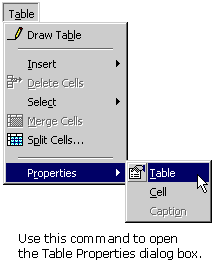 3) Adjust border width by clicking the spin controls on the Border Size box. Note: To make the Borders invisible, set the spin control to zero.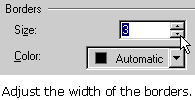 4) Adjust border color by clicking Border Color and choosing your color from the drop-down color box.

5) Align table on your Web page by selecting an option from the Alignment drop-down box.

6) Click OK on the Table Properties dialog box.