Background Spell Checking keeps the spell checker running in the background at all times. When you make a spelling error, FrontPage 2000 places a squiggly red line under the misspelled word. You may have seen this same feature in Word.

To correct a word that is spelled incorrectly:

1) Right-click on the word that is underlined by the red, squiggly line. A drop-down box appears, containing correctly spelled words similar to the misspelled one.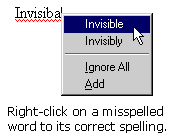 2) Click on the correct spelling of the word.

To turn off the Check Spelling as You Type feature:

1) Click Tools on the Menu bar, and then choose Page Options.

2) Click the Spelling tab.

3) Remove the checkmark in the check-box next to Check spelling as you type.

4) Click OK on the Page Options dialog box.