You can change the features of a FrontPage web-theme after you have applied it to your Web site. If you want to choose different colors, graphics, and styles - it's easy to do it.

To change your web-theme's background color:

1) Click Format on the Menu bar, and then choose Themes. The Themes dialog box appears.

2) Click the Modify button. The "What would you like to modify?" bar appears.

3) Click the Colors button. The Colors dialog box appears.

4) Select the Custom tab.

5) Select Background in the Item drop-down list. Then choose a color.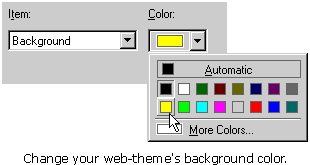 6) Click OK on the Colors dialog box.

7) Click OK on the Themes dialog box.