Navigation View shows how the pages of your Web site are linked together. The Navigation View window is divided into two sections. On the left is the Folders List, which lists all folders and files. On the right are boxes that represent the pages of your Web site and how they are linked together.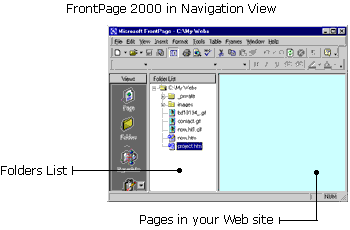 A private folder is used to hide certain documents from your Web site visitor. This is where you keep information on your Web site that you don't want anyone else to see - like private database information. Whenever you create a new Web, FrontPage 2000 automatically includes a private folder.

FrontPage 2000 also includes an image folder with every new Web. It's a good idea to save all your images in this file to help you stay organized. This way, you will always know where your images are.