To add a new page to the site in Navigation View:

1) Click the New Page button on the Standard toolbar. The file name new_page_1.htm appears on the Folders List and a New Page 1 box appears in the right window.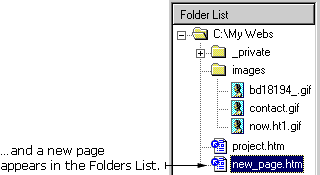 To rename the new file:

1) Right-click the new_page_1.htm text in the Folder list. A pop-up menu appears.

2) Click Rename in the pop-up menu.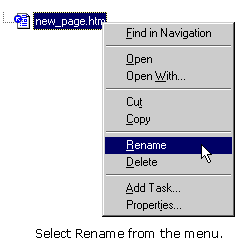 3) Type in a new name, leaving the .htm extension on the end of the file. For example: new_name.htm.

4) Press the Enter key.

TIP: When you're in Navigation View, you can double-click on a page box to open it in Page View - where you create and edit individual pages.